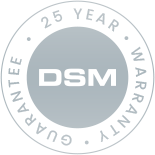 25 Year Warranty Guarantee
DSM has a long standing and trusted reputation, forged over the last 50 years of successful manufacturing, for producing products of the highest quality, with a durability that will last for decades.
DSM is so certain of the quality of the bespoke stainless steel products that it manufactures, that we offer a comprehensive 25 Year Warranty on every single bespoke stainless steel product, so matter the value or size.
No other stainless steel fabricator in the UK can provide this level of assurance in their product quality, and all our existing, new and future customers can trust that their new bespoke stainless will last for a quarter of a century and beyond.