Measurement
When you come to DSM to discuss your project and provide a quote for stainless steel worktops, you will need to provide us with some basic approximate dimensions to allow us to quote against. This is best provided in the form of a drawing to ensure everyone is clear on the overall design.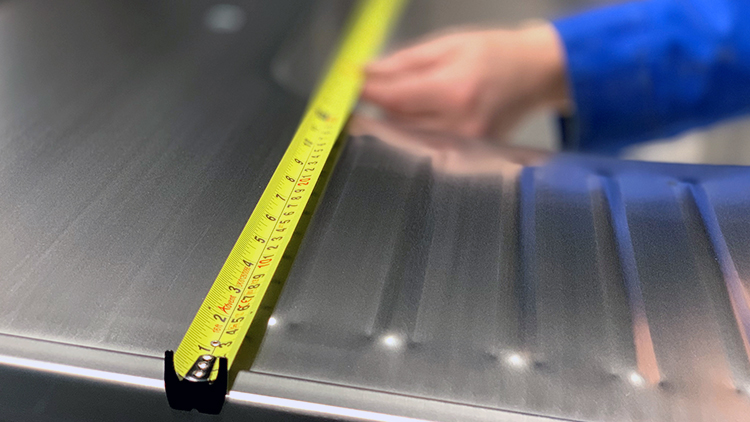 Once the order is placed, we will require accurate dimensions, including overall dimensions for each worktop, sizes of any cut-outs, and positions of any integral bowls, drainers and hob cut-outs etc.
Again, this most easily achieved on a plan view 'layout' drawing clearly showing all the necessary dimensions. Whilst this might sound daunting, it is actually relatively straightforward, as long as you follow some simple rules:
Where the worktops will back onto a wall, take the dimensions along the wall edge. This can be done with a standard good quality tape measure, but we would recommend a good quality laser measure. If using a tape measure, ensure the tape is taut at all times when recording the dimension – you may need assistance from someone else to hold the opposite end of the tape measure to achieve this.
Where worktops run into a corner if you are concerned the corner is not relatively square, use an angle measure to obtain the angle of the corner. This is generally not necessary in the vast majority of cases.
Where a wall is significantly running in and out along its length, such as in old cottages, please give us a call to discuss – we have a number of options to overcome these situations.
Only take dimensions when the room surfaces are finished, and all the final wall coverings (such as plaster and tiles etc) have been added. This will ensure the worktops are not too large for the finished room.
Never take dimensions at floor level, always at the actual height the worktops will be installed at, particularly when being installed against a wall - you will be surprised by how a wall can vary at different heights.
Double (if necessary, triple) check your measurements, or get a friend or colleague to check for you - remember it's better to measure twice and cut once, rather than the other way around – stainless steel worktops can rarely be adjusted once made if the initial sizes are found to be incorrect!
Always allow a small tolerance on your measured dimensions when adding them to your drawing, where worktops are to be installed between walls or other items such as cupboards – we recommend around 3mm when a worktop is between walls – this will ensure the worktop will fit in the space available, and any remaining gaps can be filled with metallic finish silicone sealant.
Where integral bowls or hob cut-outs are required, add these onto the drawings and indicate their preferred positions relative to a) the front edge and b) the edge to either the left, or right, hand end. This dimension can either be to the centreline of the bowl, or to one of its vertical faces. For hob cut-outs, also include the dimensions for the required size of the cut-out. This can usually be found in the manufacturer's instructions or installation manual.
Once you have added all the dimensions to the drawing, e-mail it over to your contact at DSM, and we will take it from there. If you have drawn the sketch by hand, then you can always photograph it using a smartphone in order to e-mail it to us. If there are any questions arising from the drawing, we will check those with you at that point.